Celebrate creativity
Images Art Exhibitions do all the hard work leaving you free to concentrate on producing your best creations. Our whole service is free to schools.
Plan your Exhibition
Book a date

An exhibition can take place at any time of year but book early to avoid disappointment. Large schools may want to run the event over two days.

Complete your masterpieces

This is an opportunity to showcase the artistic talents of the pupils and help boost there esteem. We will provide the paper canvasses and notes with tips and suggestions. Give teachers and pupils plenty of time to plan and practise skills.

Collection of art

Depending on the size of your school, we will need to collect the finished art at least a week before the exhibition to catalogue, mount and frame it.

Exhibition day

No two exhibitions are the same so your organiser will discuss timings with you. The hall will need to be free for most of the day, but the gallery can be pushed to the side for lunch if necessary. Classes visit during the day and guests are invited after school.

Sales

Advertising the event is key to success. We provide everything needed to ensure the smooth running of sales. We may need some help on the desks as doors open to parents.

After the exhibition

Unsold art will be boxed in number order and can be left with you for a few more days for parents who may have missed the big event. We will then return to finalise all sales and deposit your commission straight into your bank. There really is no financial risk to school as unsold art is simply taken away and the frames recycled.
Book your exhibition
We'll manage everything for you from initial consultation through to staging your exhibition with your framed pictures displayed on our custom-made boards.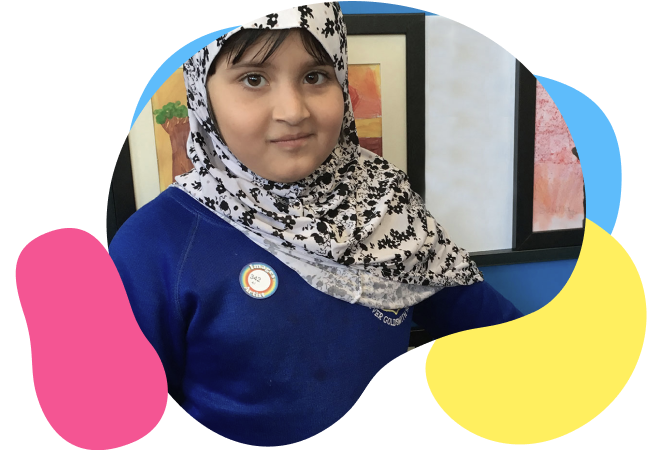 Hassle free
We do all of the organisation for you and supply all the display boards and even the beautiful quality paper. You just supply the artists!
Our expert team understand how schools operate and can ensure a smooth and successful exhibition.
Your exhibition can be a stand-alone event or combine it with a Parent Evening or Open Day!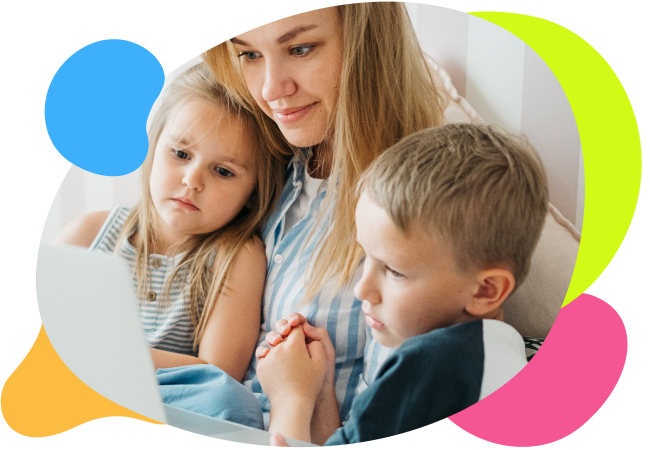 Virtual Galleries available
We developed our Virtual Gallery service in 2020 as a result of restrictions on visitors coming into school. It remains popular, as an alternative to a live exhibition, with schools who cannot give up their hall for the day or who do not want hordes of visitors in school. A gallery can stay live for one or more weeks and parents, carers, relatives and friends can view and buy the art online from the comfort of their own homes.
More about Virtual Galleries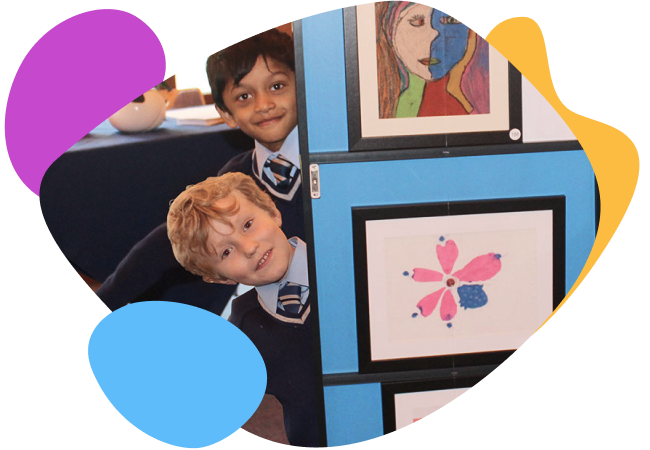 No financial commitment
Exhibitions are funded solely through the sale of the framed artwork. Parents value the opportunity to buy their children's framed artwork, and we share the profits with you or your charity. Your only cost will be for your normal art materials, and we take away any unsold frames for recycling.
What schools say about us...
Schools are raving about thier Images Art Exhibition experience.
A super exhibition with very little extra effort. It is a very easy way to raise the profile of art within the school. We were particularly pleased with the contribution it made to our Artsmark and the way the children could use it towards their Arts Award by choosing work they liked and explaining why they were inspired by it.
Juliet Turner, Art Subject Leader, St. Helen's College, Hillingdon
We've now enjoyed two Images exhibitions and must say they are a brilliant way to celebrate the children's artwork and to involve parents in a very popular event. On both occasions, your expert organisation made the whole process run smoothly from start to finish. It was all very easy for us and we're looking forward to seeing you again.
Alison Edwards, Headteacher, The Woodville School, Leatherhead, Surrey
We had a fantastic experience with Images Art Exhibitions. The children, parents and teachers have all asked for it to happen again this year. It is a lovely opportunity for children to see their work on display and take pride in all they have achieved. We can't wait to see what they create this year!
Maisie Scobie, Art Subject Leader, Kew Riverside Primary School, Kew, Surrey
From start to finish this was a very efficient process ensuring that the art exhibition ran smoothly. The Images staff were very friendly and obliging. Parents and children were highly delighted with the outcome, resulting in a 'wow!' moment when entering the hall.
Hill Top Academy, Doncaster
It was wonderful to see the children's hard work displayed. They were so proud of their art and parents were greatly complimentary about the gallery. Images was easy to communicate with which was important because I had taken over the project from a colleague late-on. I would fully recommend this project to others.
Warren Primary Academy, Nottingham
Very clear information - Images was always responsive via text and email if we had any questions. The art was displayed really well and children and parents were impressed with the quality.
Art Coordinator, Richard Bonington Primary and Nursery School, Nottingham
We had very positive feedback from parents, children and staff about the quality of the exhibition.
Newbold Verdon Primary School, Leicestershire
Thank you for helping us create such a successful Art Exhibition. The communication, flexibility and assistance was excellent and helped make it an easy and enjoyable experience. Our pupils were so excited to see their artwork so nicely framed, it boosted their self-esteem and made them so proud.
Art Coordinator, Featherstone Primary & Nursery School, Southall, Middlesex
Absolutely everything was thought of and it made school's efforts so easy. The feedback from children, staff and parents was all so positive and the children loved seeing their artwork on display in the school 'gallery'.
Ashton House School, Isleworth, Middlesex
Parents commented on how much they enjoyed it and every pupil in the school had an opportunity to present a personalised piece they had created. This was a great platform to get families in the school and talking about pupil learning. Looking forward to the next show when it comes.
Miss Peterson, Deputy Head Teacher, Forthill Primary School
Images could not have made the process from start to finish any easier. Absolutely everything was thought of and it made our school's efforts so easy. The feedback from children, staff and parents were all so positive and the children loved seeing their artwork on display in the school 'gallery'.
Rebecca Gillis, Art Coordinator, Aston House School, Isleworth
I particularly liked the presentation of the children's work and how the classes were mixed to give a real exhibition feel. The music in the background added to the mood. The pupils' reactions were so positive and they really valued the experience.
Katie Hutchings, Art Coordinator, Toton Banks Road Infant School, Nottinghamshire
The children were totally engaged in the activities and it provided us with a focus on creation and imagination. We had a range of artistic skills used including computer generated art and our parents gave very positive feedback. I would highly recommend the Images Exhibition.
Eddie McGuigan, St. Michael's RC Primary School, Chatham
Our Art Exhibition was a huge success-bringing together pupils from three schools in a celebration of inclusion. Resources were dropped off to the three schools involved ensuring smooth running of the joint venture. All literature was tailored to the needs of our project and Images was professional and efficient.
Mrs G. Graham, Deputy Head Crookfur Primary, Glasgow
I felt the exhibition was incredibly powerful for the children to see their work organised in such a beautiful way. It produced the opportunity to celebrate everyone's achievements. Children were able to articulate the process they went through to produce their art. It was just simply fantastic.
Art Coordinator, Awsworth Primary and Nursery School, Nottinghamshire
The children gained a great deal from the experience, sharing ideas and taking pride in their achievements especially the value given to their work in the exhibition. The response from parents and friends was fantastic, a resounding success echoed by everyone and raising valuable extra funds (over £500).
Mike Peace, Head Teacher, Frimley C of E School, Surrey
We had a very successful Art Exhibition with Images. From start to finish we were delighted with all the help and information that we received. The parents and pupils had a very positive experience and the commission we received surpassed our expectations.
Mrs R McLeod, Principal, Ralston Primary, Paisley
Our first ever Art Exhibition! Images Art inspired us all to experiment with new art skills and techniques. We have all gained a lot more confidence. Most important of all, it gave the children a real buzz seeing their pictures exhibited.
Marcelle Steenkamp, Art Coordinator, Montem Academy, Slough, Berkshire
Case study
Students At St Modwen's School Unleash Their Inner Banksy

To ensure success, St Modwen's School enlisted our help as specialists in delivering successful school art exhibitions.

Read the case study

Promoting the artistic talents of pupils

Ormiston South Parade Academy wanted to raise funds for the school and celebrate the artistic talents of their pupil's.

Read the case study
FAQs
Why do schools do this?

The reasons that schools give are: (a) boosting the children's self-esteem; (b) underpinning learning through art with the exhibition as a focal point; (c) raising the profile of the school (local press and Ofsted inspectors are big fans of Images exhibitions); (d) involving parents in a superb event; and (e) fundraising.
Why Images School Art Exhibitions?

While the benefits of a whole-school exhibition are substantial, so is the amount of work involved. We take this off your hands, leaving you to focus on the educational aspects of the project.

From planning advice, to cataloguing and framing, from staging the exhibition to providing complete documentation, we make it easy for you. And because we produce our own frames in our own British factory, and have developed our systems over many years, we can do all this for FREE and keep the frame price low.

Our experience gives you the peace of mind that your exhibition will be a success. Here are just three examples of our care and attention to detail:

After cataloguing your artwork, we send you report showing any children that have been left out. If they can have their artwork ready in time, we can frame it on the day.

Every child receives a colourful sticker with their picture number on it. This not only boosts their pride, but helps them find their own and each other's pictures.

We use plastic and not glass. Plastic is much more expensive, but is obviously much safer in the school environment.

There is much else that makes our service the best, and your local exhibition expert will be happy to tell you more.
Is there really NO RISK to the school?

The Images service is FREE and there is no financial risk. We even provide the special art paper free of charge. Parents value the opportunity to buy their children's framed artwork, and we share the profits with you or your charity. Your only cost will be for your normal art materials, and we take away any unsold frames for recycling. The only thing we ask is that schools provide us with the very best artwork and that the exhibition is well publicised and treated as a special event in the calendar.
Where can I find out more?
Take art to the next level
Join the 1000's of schools that have already taken advantage of our unique FREE exhibition experience.