Experienced and established
When you open a franchise with Images School Art Exhibitions you have a full support system right from the start. Together we will provide a creative challenge to young artists and help schools raise valuable funds for their pupils.  We provide a quick and easy way for you to become a business owner with the flexibility to achieve substantial business growth and a better work/life balance. You get the right amount of independence and guidance to run and grow a successful business. 
The perfect franchise opportunity
Attractive franchise agreements

We are a franchise with no cash flow problems, bad debts or deductions on franchise earnings for royalty fees, management or commission payments of any kind.

Established brand

Images is the UK's original and the best school art exhibitions provider. We have a large network of established and successful franchisee's. Minimum investment of £6,000.

Ongoing business assistance

You get the highest standard of training and ongoing business support you need to grow your successful franchise. National marketing and advertising campaigns, lead generation and bookings all year round.

Proven success

Images offers a flexible, lucrative and secure future. Studies show franchises have a success rate of approximately 90%, compared to only around 15% for new start up businesses.

Be your own boss

Images School Art Exhibitions is the original and the best school art exhibition providers in the UK, offering a flexible work/life balance and the ability to schedule your work around your life.

Rewarding

Help provide a creative challenge to young artists, and an opportunity to connect with families, friends and the wider community as well a fundraise for schools.
Discover your future today
With great income prospects, the ability to be your own boss and a full package of support, start building your hugely successful business today!
Getting Started with Images
Established for over 25 years our market-leading school art exhibitions franchise makes it simple and straightforward for you to start your own business.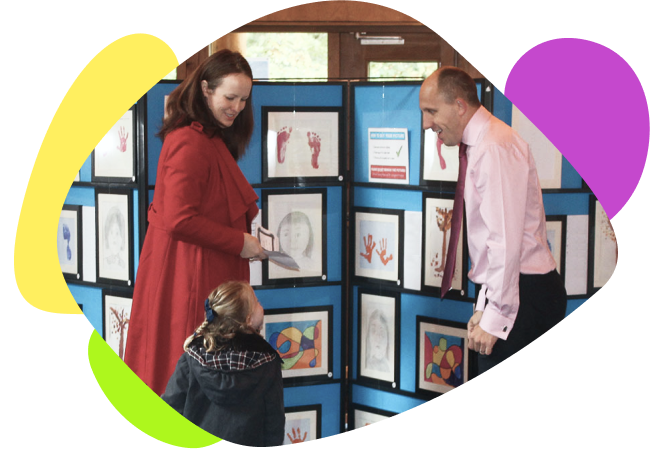 Full business support
You will receive comprehensive training and marketing support to start generating income from day one.
You do not need any experience due to the support and training you will receive. Our franchisees do not have to be artistic, as children create their own pictures in their classroom and we provide the art paper, printed guidelines and artwork examples to assist their teachers.
​Even though you will be your own boss from day one you will not be going it alone. We have systems in place and national marketing campaigns that help generate leads and bookings all year around.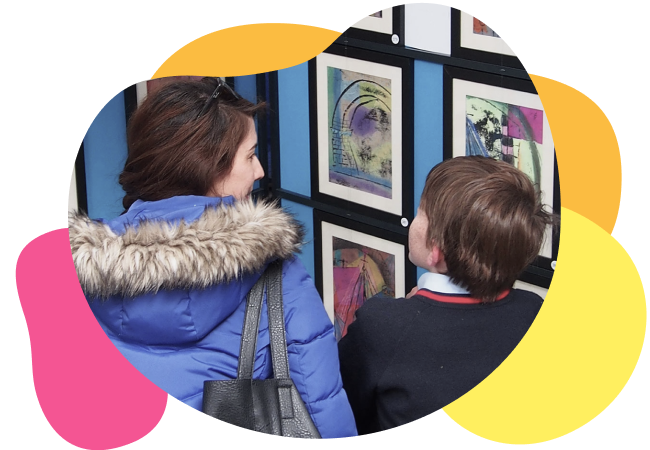 Feed your passion
The franchise can be adapted to suit your current lifestyle and to suit you own personal ambitions. So you really can create a business that is tailored to you. Whether you would like to spend more time at home or want to build a thriving business or find a balance to achieve both. This business can be perfect for you.
What our franchisees say about us...
Discover what our franchise network of local specialists have to say about their experience.
I joined Images in 2013 and I have loved every minute. I also love the interaction with teachers when you visit schools. Seeing the reaction of pupils and parents at the exhibitions is very special. The initial training was very thorough with lots of support at my first few exhibitions. You are provided with most of the necessary equipment and enough stock to get you started.
Schools love our service so bookings are easy to obtain and many schools book us every year. So don't delay ask for an appointment to discuss running your own franchise now!
Jane Owen
Since starting with Images, I have found passion in my work. This eagerness to thrive has motivated me to kick bad lifestyle habits in order to take my business to the next level. The support from Head Office is unmatched.
In a short period of time, I have booked three exhibitions and I am in contact with a further five other schools which I am confident will soon book. I love this company and look forward to my future here.
Daniel Nuttall
I became an Images Franchisee in 2002 and staged over 1,300 exhibitions all over Ireland.
Every school is different, every exhibition has it's own character and whether it's a school I'm visiting for the first time or a school I'm visiting for the tenth time I still find myself looking forward to the challenge of putting on the best exhibition I can so that the school community has a great event.
Add in the benefits of having weekends, Xmas & summer off and what's not to like?
Justin Gillespie
Since starting as a franchise the experience has been wonderful from the initial training course where you learn all the aspects of what being a franchise will entail and all the technical side of running the franchise to booking my first exhibition the support has been second to none.
Any questions I have had or help I've needed the support has been there instantly. I'm really looking forward to expanding and growing my area over the upcoming years and what the future will hold.
Duncan Robinson
I've been an Images School Art Exhibition Franchisee since November 2009. The Images business model has been developed and refined over the years to deliver a service that is a pleasure both for me to provide and for schools to witness.
Working in the school environment was a big change for me at first but I now take great pleasure in providing schools with an event that pleases them so much. I've never heard the word WOW! used so much before the time I became an Images School Art Exhibition Franchisee.
John Bradley
FAQs
So why buy an Images School Art Exhibition franchise?

Studies show franchises have a success rate of approximately 90 percent, compared to only around 15 percent for new start up businesses.

We give you all the support and training you need to start up your successful franchise.

National marketing and advertising campaigns which help bring enquiries, leads and bookings all year round.

Only work during school term times, giving you an enviable lifestyle and more time to spend with the most important people in your lives.

Create a better lifestyle for you and your family. Create the life you have always desired.

Ambitious franchisee's have the opportunity to scale up their business and run multiple area's in our network.

We are busier than ever with enquiries coming through to head office due to our increased marketing campaigns.
What Investment is required to get started?

The minimum investment is £6,000. This investment gives you everything you need to start your successful Images franchise business that helps you improve your lifestyle and provides great job satisfaction.

Our franchise is a truly home based operation that required no additional premises and can be efficiently and profitably operated from a single room or a suitable outbuilding or garage. We are an original and unique concept with no direct competitors unlike many other franchise businesses.
What is included in a franchise package?

Head office national marketing campaigns

Full marketing support

Full comprehensive in house training

Digital Marketing

In house unique IT systems

Full support of a successful and very helpful franchise network team

Customer enquiries generated through head office on your behalf

Everything needed to run your Images franchise business

Full pallet of Frames

Marketing materials

Machinery and display screens

Art canvases and other literature required

Everything you possibly need to get going from day one
Where can I find out more?
Our franchisee success stories
The flexibility to work when you want to

For the past 12 years, we have grown in a business sense with Images and have been pleased to help shape the processes as things have evolved.

Read the case study
Become a business owner today!
Get the support to achieve substantial business growth and the flexibility to enjoy a better work/life balance.